24 -28 JULY 2017 " The Art of Meditating-Movement Meditation"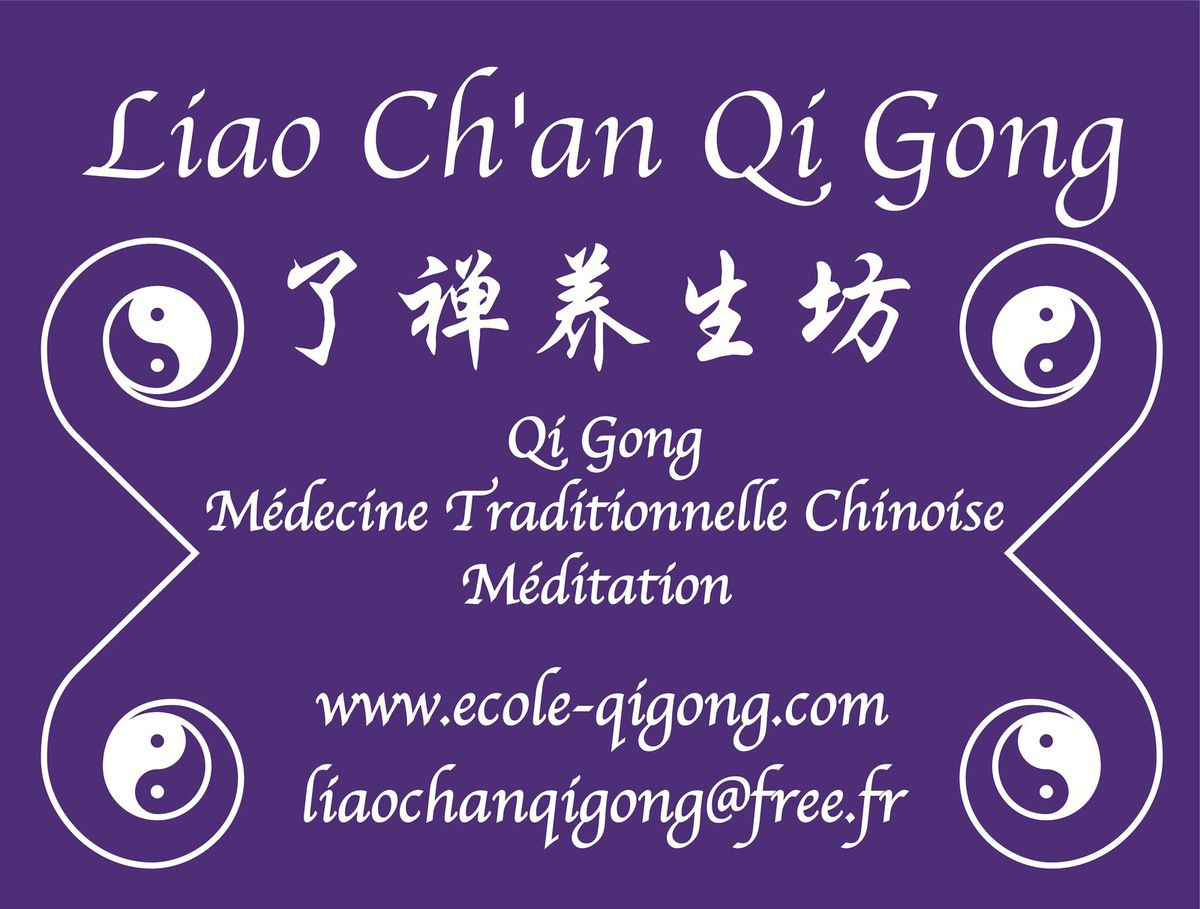 STAGES DE MÉDITATION ASSISE ET EN MOUVEMENT | LIAO CH'AN QI GONG
MAÎTRE LIAO GUIDE LA MÉDITATION DANS SON CENTRE, DANS CHAQUE COURS, CHAQUE STAGE. LIAO VEUT DIRE L'ULTIME CONSCIENCE DE VIE, CH'AN C'EST ÊTRE ZEN.
LIAO CH'AN QI GONG
71, RUE ROBESPIERRE
93100 MONTREUIL
Métro Bérault ou Saint Mandé (ligne 1) ou
Robespierre( ligne 9 ) ou Vincennes (RER A)
Liao Ch'an Qi Gong : ecoleliao@gmail.com
09 53 22 63 39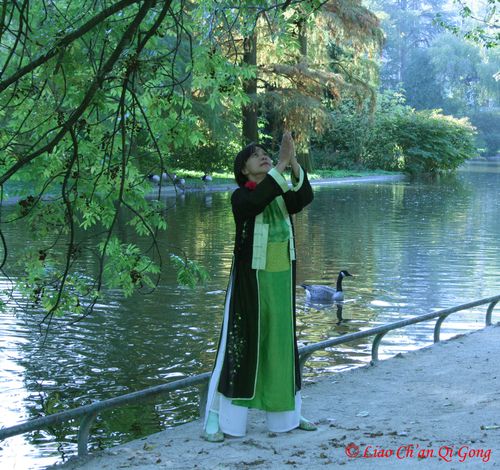 24 -28 JUILLET 2017
LIAO CH'AN QI GONG ET L'ART DE MÉDITER
DANS LE DOMAINE DE TAILLE ARDÈCHE
BELLE SALLE EN PLEIN AIR FACE À LA MONTAGNE
Sur le thème : Méditation en Mouvement
Avec l'enseignement du livre
« L'Art de Méditer - Méditation en Mouvement » écrit par Liao Yi LIN.
Ce sont des très beaux mouvements de Qi Gong et Tai Ji de l'Ecole Ch'an

datant de plusieurs millénaire, un extraordinaire répertoire de mouvements de liberté et de méditation encore méconnu en Occident. C'est une pratique permettant d'épanouir la conscience, la paix intérieure. Liao Yi Lin nous guide dans un voyage,
dans l'amour et l'humour des grands maîtres Ch'an chinois.
five days of Summer courses of Chi Kong and meditation
quided by Liao Yi LIN
With the teaching of the coming book written by Liao Yi LIN, « The Art of Meditating –movement méditation »
For further information, contact and inscription : liaochanqigong@free.fr
Meditation for a better world
extrait of the coming book " Art of Meditating - movement meditation- liao ch'an Chi Kong" written by Liao Yi LIN
"Even the eagle, king of birds,
cannot fly if she is missing a wing.
Similarly, many understand emptiness,
but only those who cultivate the altruistic intention
of attaining Awakening for the sake of all beings
have two wings and will fly to the omniscient state of Buddhahood."
- Keisang Gyatso, 7th Dalai Lama
The Earth needs our meditation. She is talking to us, in thousands of ways, inviting us to awaken. The end of the world, that some belief systems predict in 2012, has indeed some sense if we consider the end of an unconscious, unaware world. Human beings are on the edge of self-destruction. We are destroying the forests and nature. Never before did the Earth reach such a critical and risky moment. The climate is in deep distress, the four seasons are disappearing.
Many natural disasters have taken away uncountable lives. The Earth is not very pleased with us. In Greek mythology, as well as in many tribal and primitive traditions, we find cruel rites during which people killed their own children as an offering to their gods. When I see the young 10-year-old girl who loved dancing and whose injured leg had to be cut off, right after the earthquake in Sichun, as well as the thousands of children who were killed, like the ones who died in their school that fell down, I understand the deep meaning of this sacrifice. Heaven and Earth, or, if you prefer, the Gods you believe in, are all angry with human beings. They take children's lives away. They fill the air with flashes of lightning and peals of thunder. They move the mountains and upset the seas. Countless lives were taken away by tsunamis, earthquakes and floods. All these dead children are shaking their parents' souls and bodies, forcing them to open their eyes and to wake up! These parents are now creating associations and networks in China and Japan, they are fully engaged in humanitarian and environmental actions.
The founder of the "Green Life Fund" is an example of these new-born social movements. Her son was killed in a motorbike accident. She spelled many tears and cried for justice. She was on the edge of suicide during her son's funeral. The deep grief for the loss of her only beloved son soon turned into anger, and then into action. Because she remembered that her son's greatest dream had always been to have trees planted everywhere...
Therefore, her present dearest aim is to watch trees grow in the Mongolian desert. She used the money of her son's life insurance to plant the first ten thousand trees. She has turned into a peasant and carries herself the tree trunks through the desert's sands. The more trees she plants under the desert's sun, the more she regains strength and happiness.
Another mother who lost her little girl, deeply moved by this humanitarian action, soon joined her. She tells that her daughter gave her important messages while she was sleeping. In her dreams, this desperate mother saw endless forests, infinite meadows overflowing with dazzling flowers...
This is how the sacrificed children miraculously fulfilled their wishes! Their mothers have finally understood and they are walking together, hand in hand, to make their children's dreams come true, and many others are joining them every day.
These committed mothers have moved millions of people. Many hotel owners and taxi drivers have offered their services for free. Countless young people participated to their project and became their children. Many journalists speak about them on television... TV and movie stars support them...
Thousands of trees are being planted every year, in the most devastated areas, thanks to this mother who lost her son, Mrs Yi, whom everybody calls "Mother Yi". Her family name is actually very symbolic and heralds a new age of consciousness: "Yi" is the same word contained in "Yi Jing", meaning "change", "transformation". Moreover, her first name is "liberation". This indeed is a wonderful transformation and liberation for all those who are aware of the warning signals that the Earth is giving us!
Our planet needs more and more people to join this movement of renovation and freedom. I'm very happy that my father gave me my beautiful name, "
" which means "forest". The ideogram "Lin" shows two trees side by side. May these two trees, which symbolize the forest, endlessly multiply, in order to counterbalance the deforestation that has been going on, in a brutal and unconscious way, since the beginning of industrialization. May these trees thrive and spread more and more and everywhere!
The Year of the Dragon is expected to be the beginning of a new era, in which meditation will generate good deeds... This is a real emergency! There's no time to waste... Those who meditate shouldn't just sit all day long in a temple. The more you become alert and awake, the more you are aware of this emergency. Meditation naturally leads you to a concrete transformation and liberation. All those who love the Earth and Life can participate to this movement of freedom, to this evolution of awareness. For example, computer engineers could find new devices that do not harm the eyes, entrepreneurs could run their companies in a more sustainable way, so to avoid any deadly pollution. The Earth needs a swift and efficient mobilisation. Let's invent new ways to print books, to produce olive oil, etc., producing the least possible waste. In every field, scholars, experts, technicians, inventors, farmers and producers should all dive into this new stream of transformation and freedom!
In Rajasthan, in India, an unusual school trains women and men who come from rural areas – mostly illiterate – to become solar energy engineers, artisans, dentists and medical doctors in their own village. It is called the "Barefoot College" and its founder, Bunker Roy, mainly trained or helped the mothers and grand-mothers to become self-taught in many skills... Since its foundation, countless poor villages, everywhere in India and Africa, have learned how to enjoy a healthy life lit up by solar energy. A real "organic" life... What a wonderful initiative, what an outstanding achievement!
(Bunker Roy explains how this miracle came true in the following video:
http://www.ted.com/talks/lang/pt/bunker_roy.html#.Tty9NE-cDhE.facebook
If you need any subtitles in a language other than English, you can click on the underneath bar "Subtitles available in:" and choose a language)
During this 2012 Year of the Dragon of Water, a year of Alchemy of Fire and Water, our whole planet will enter a new age of transmutation...
May countless more geniuses like Bunker Roy start new humanitarian and environmental actions, so that our world may become increasingly joyous and beautiful!
May the education of our children support this new awareness. May this transmutation be the first concern of the coming generations.
May meditation be not merely an egotistic endeavour, nor a barren silence, but rather the trigger for good and altruistic deeds and the inspiration for love for the whole of existence.
May the deep silence of meditation transmute into real compassion. A compassion that can give life to trees, flowers, happy children and a wonderful life for everyone...
A compassion that, once transformed into great Love, can heal the sick. A compassion that, once transformed into righteous action, can comfort those who are in sorrow and grief. A compassion that, once concretized into a good cause, can guide those who are lost and bemused...
A new age of meditation, an era of awareness allows humankind to live a better life.
This is the true movement meditation.
Let your meditation be drawn by this movement, vivified by a great compassion.
Let your meditation open to this movement, vivified by a great, timeless Love...
Don't you also think that it is a shame to go on sacrificing our children?
Therefore, meditate on it and move into action.
What are you waiting for?
I wish you'll have all the courage you need to achieve something great...
As a closing for this book, "The art of Meditating – Movement Meditation", let me offer you a few words from the greatest Chinese environmentalist, Lao Zi:
"The beginning of the universe is Mother Nature.
Those who know the Mother,
know the whole of existence.
Those who know existence,
are able to preserve it relentlessly,
to the end of their lives.
Keeping silent and moderating one's energy
allows one to live a life without strain.
Giving up reserve and discretion and being agitated
causes one to lose the meaning of life.

She who can be amazed
by the smallest things
walks in light.
She who can remain gentle
amidst great turmoil
has a great soul and lofty sentiments.
Using harmoniously the sunbeams
while pondering on their origin
in one's heart
keeps harm away.
She who acts in such a manner,
walks on the Path.
She shall inherit the Eternal."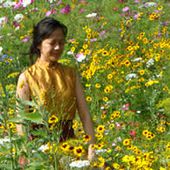 DATES RÉCAPITULATIVES DES STAGES DU QI GONG 2015 - 2016 | LIAO CH'AN QI GONG
DATES DES STAGES QI GONG 2015 - 2016 TOUS LES STAGES SONT OUVERT À TOUS : Formation Qi Gong 1ère année 2ème année 3ème année Enseignements...
http://www.ecole-qigong.com/dates-recapitulatives-stages-du-qi-gong-2015-2016
Partager cette page