Presentation of the Liao Chan Qi Gong Center and my long journey on Qi Gong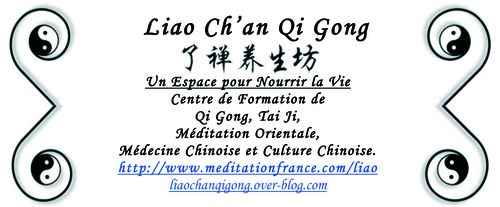 LIAO CH'AN QI GONG
71, RUE ROBESPIERRE
93100 MONTREUIL
Métro Bérault ou Saint Mandé (ligne 1) ou

Robespierre( ligne 9 ) ou Vincennes (RER A)
Liao Ch'an Qi Gong : liaochanqigong@free.fr
09 53 22 63 39
Presentation of the Liao Chan Qi Gong Center
and my long journey on Qi Gong
I have been immersed in Chinese Traditional Medicine since my early childhood, as my father worked all his life in one of the most prestigious shops of Chinese medicines and herbs of Southern China and Honk Kong. I grew up surrounded by the scents of medicinal and dietary plants, and my father passed on his passion for this priceless knowledge to me in my daily life with him...
My pathway to Qi Gong began when I was 15. As I suffered from a galloping myopia, I looked for ways to save my eyesight. During my first travel to China, in 1975, I was given simple methods to heal my short-sightedness by my aunt in Guangzhou (Canton): Qi Gong exercises for the eyes that were taught in schools before classes, and traditional Qi Gong movements for child development.
Then, I started to practice intensely Qi Gong when I arrived in France to attend the French state Film School La Fémis, in 1988. I met Dr Li Xiao Ming, professor at the Beijing Institute for Chinese Traditional Medicine, who had just arrived in Paris to conduct several Qi Gong workshops and stages. Dr Li Xiao Ming taught me the Six Healing Sound Qi Gong, the Five Animal Qi Gong and the foundations of Chinese Traditional Medicine, as well as his style of Yi Quan, a martial art that I found really interesting. Thanks to him, I also had the opportunity to meet, in 1987 in Beijing, the twin sons of Yao Zong Xun, great Master of Yi Quan.
I also practiced Yi Guan Qi Gong, based on fixed positions. Thanks to this practice I acquired a good grounding into Earth's energy for the rest of my life! My professional career as film maker and camera-woman compelled me to practice Qi Gong on a regular basis, in order to keep the strong vital energy that was necessary to realize shootings – real adventures, actually – on the highest mountains of China and in the Amazon Rainforest.
In 1995, I met for the first time Master Nan Huan Chin, after I had unremittingly studied his Ch'an teachings – that I relate in my book "Fleur de Chine – Parfum de Sagesse Ch'an" ("Flower of China- the Parfum of Ch'an Wistom") – for more than 15 years; from then on I have been constantly integrating Ch'an spirit into Qi Gong practice.
Qi Gong is not only a series of movements that are performed in harmony with breathing, it is also a spiritual path that may lead us to the furthermost realm of cosmic emptiness. For centuries Taoists and Buddhists have been developing the spiritual aspect of this discipline. I've always felt deeply touched by the teachings of this great contemporary Ch'an master, who brought deep truth and simplicity into meditation. His priceless example keeps me looking for the same genuineness in all Qi Gong practices, so that they may be easy to perform, and yet powerful and efficient for everyone's well-being.
In 2003, I met Professor Qui Pi Xiang, who had been working on the reinterpretation of Ma Wang Dui Qi Gong movements; I am absolutely fond of both the beauty and therapeutic efficacy of this practice. I had always dreamed to work out this mysterious banner and thus to discover the earliest movements of this ancestral Qi Gong. I therefore asked Master Qui Pi Xiang's permission to bring this Qi Gong form to the Western world. That gives the first book about Qi Gong, " The Treasure of Chi Kung- The Ma Wang Dui's Banner".
Whenever I have to travel to China – either for a film or for a book – I always use part of my time there to look for authentic practices of outstanding and good masters, like Tai Ji Master Li De Jin. After practicing with his disciples in Beijing's park, I fell in love with Tai Ji sword and fan.
I also appreciate a lot the teachings of Master Li Ze, his wonderful way of conveying both the spirit and theory of Tai Ji and his high level Qi Gong.
I also draw deep inspiration from the feminine and graceful beauty of Tai Ji as it is practiced by 2000 World Champion Mrs. Li Fai, who is a great disciple of the great Master Zhang Guang De;

I also owe a lot to the practice of Professor Yu Ding Hei, who renewed and reinvented the wonderful Eight Pieces of Brocade and the 25 movements of Five Animal Qi Gong, adding to these practices a remarkable manly elegance.
Also noteworthy are Muscle/ Tendon Changing and Marrow/Brain Washing Qi Gong as they are taught by Master Tsing Ke Jin, the 4th generation successor to the Chen Tai Ji School, expert in Yang Sheng Qi Gong.
I cannot forget the Qi Gong Practice for the Eyes of Dr Ma Xu Zhou, who is also known as the "Eyes' Angel": her priceless teachings are my daily companions and saved my eyesight...
In my workshops and stages I always try to pass on this wonderful blend of Chinese treasures and I take this opportunity to thank from the deep of my heart all the truthful masters who directly or indirectly transmitted to me their great Art, and to express my gratitude for the anonymous teachers who taught me for free in the parks of Shanghai, Beijing, Quen Ming and Que Lin... They endlessly invent new lively and funny practices, such as the Water Calligraphy Qi Gong, the Tennis Tai Ji, the Back Step Qigong, the clapping-hands and the taping-head funny methods etc.
In my teachings I use a method which has proved to be very powerful to stop the restless mind of the people who live in the Western world. For instance, I pass on some particular mudras which allow to contact our instinct and our childlike innocence. I also deal with our most powerful emotions – such as anger, joy, worry, sorrow, fear – by means of particular movements, according to the seasons as they are considered by the Chinese Traditional Medicine, in order to heal the psychological disorders. I believe that until our physical problems and psychological blockages are not purified, authentic Qi cannot freely circulate, and thus we cannot have any access to the more spiritual, inner practice of Qi Gong.
As I noticed the presence of great Yin/Yang unbalances in our current Western world – men have trouble in loving women, and women in loving men – I set up a series of movements to help every trainee to harmonize Yin and Yang – i.e. feminine and masculine energy – in him/herself. Once Yin and Yang are balanced, ego can be consciously lived and transcended: only then can we really reach a true union with others and unite Heaven and Earth in ourselves. Only then can we say we have attained the depths of Qi Gong practice.
My teachings both aim to ensure a better health through the knowledge of Traditional Chinese Medicine and to touch people's heart through meditation.
In my Liao Ch'an Qi Gong Center, I conduct workshops on specific themes and issues; each workshop is unique and can be attended singularly. Here is a list of the main workshops:
Harmonisation of Yin /Yang – Qi Gong for Men "Man's Honour" and Qi Gong for Women "Woman's Perfume";
A Life of Wisdom facing the Seasonal Crises;
A Qi Gong Treasure: Ma Wang Dui Banner;
Parent/Child Relationship;
Five-Animal Frolic;
The Secret of Longevity: "Eternal Spring Qi Gong";
Life and Death, the Art of Dying: "12 Pieces of Brocade Qi Gong for Bedridden People";
The Art of Seeing: "Qi Gong for the Eyes";
Meditation Bliss: "Taoist and Chan Buddhist Inner Qi Gong";
Methods for getting rid of psychotherapy: "Liberation Qi Gong";
The Art of Defence: "Qi Gong for Self-Protection";
The Subtle Ways of Healing: "10 Healing Sounds";
Two Bodhidharma's Great Secrets for Health: "Muscle/Tendon Changing" and "Marrow/Brain Washing";
Close to Nature's Heart: "Earth-Mother Qi Gong"; and many others...
I also initiated a series of moving meditation called "Liao Chan Qi Gong"
My main purpose is to develop a Qi Gong that can be both healing – thanks to the many treasures of Traditional Chinese Medicine – and spiritual – thanks to Chan meditation. I wish to open a movement meditation path that may unfold in beauty and serenity...
In my workshops I often use beautiful spiritual music, and Chinese, Tibetan or Sanskrit mantras to go along with the movements, in order to help trainees to turn inward and probe the depth of their soul. In the 44 movements of Chan Qi Gong and Chan Tai Ji that I teach, I apply the spirit of my Liao Chan Qi Gong School, through the blending of Qi Gong, Tai Ji and Traditional Chinese Medicine. In my 5-day workshops, I spend a fair amount of time speaking about the teachings of spiritual masters of many different traditions, in order to broaden people's mind and to open the inner gates leading to the blissful state of authentic Qi...
In 2011 I finally moved to a wonderful place, where I presently teach, and where I can further develop my LIAO CHAN QI GONG SCHOOL – Training Centre for Qi Gong, Tai Ji, Traditional Chinese Medicine and Eastern Meditation.
The two first words of my school's name are "Liao" and "Ch'an". My family name, "Liao", means transcending life's polarity – joy and pain, love and hate, life and death. It is an invitation to go further, to go beyond. "Ch'an" is the wisdom of life that is attained through awareness, meditation, and by the letting go of the mind and the unceasing desire, in order to find peace and stillness again...
To reach this goal, we have to fully live our body. Our body is our temple. Yet, as we get older, this sacred temple risks crumbling if we don't understand how it works and if we don't follow its natural flow. Traditional Chinese Medicine is one of the treasures of mankind that allows illnesses to be cured even before they occur, thus fostering a natural healing... Our age-old culture has many ways to prevent illnesses: washing the energy with ox horn scraping tools (Gua Sha), with cupping glasses, acupuncture, dietetics, head to feet massages, Gi Gong, Tai Ji, martial arts, meditation, and so on. All these disciplines and arts make a whole healing system that can prevent, maintain and improve health and spirit... Health and spirit are one thing, they cannot be separated...
My deepest hope is to create a place where both these fundamental aspects of our life may be nurtured, thus allowing for the blooming of inner harmony. In Chinese, we convey this idea of nurturing life through the expression "Yang Sheng Fang", a place to nourish life...
Therefore, Liao Chan Qi Gong Centre is a place where this whole set of activities is available for anyone who wishes to nurture his/her life in an environment devoid of any mental judgment, where giving and receiving occur in an open-hearted atmosphere. I wish to hand down a full and in-depth training course that encompasses traditional Qi Gong, Chinese medicine and Eastern philosophy and spirituality.
My father worked all his life in one of the most prestigious shops of Chinese medicines and herbs in Honk Kong. He always healed me with all kinds of magical herbs. On the occasion of the 10th anniversary of my father's death, I am very happy to launch a full training course in healing methods according to the Traditional Chinese Medicine (TMC):
Traditional Chinese Massage
Jade and ox horn Gua Sha (scraping tool)
Cupping glasses
Moxibustion
Medicinal Herbs – Chinese Dietetics – Nourishing Cures
Total Reflexology: foot-hand-face-ear massages
Among the many existing schools, I chose the ones I found the most efficient and I introduce the most outstanding masters to my students.
Heaven bestowed upon me an angel to walk with me along this arduous path: Gérard Olivier. We walk together, in love, to extend this Centre, where Gérard teaches an innovative, wonderful healing practice that he developed after a 35-year long experience, called "Harmonisation of the Meridian System". I am deeply touched by this healing art, which restores the original balance and fullness of energy in our body. I hope that an ever increasing number of therapists will set off on this beautiful healing pathway. Liao Chan Qi Gong Centre is honoured to be the first place to welcome this innovative method that I personally fully endorse.
Liao Chan Qi Gong Centre wishes to train not only Qi Gong teachers, but also highly qualified therapists in Traditional Chinese Medicine. At the end of the whole training course, therapists will be able to heal according to the Traditional Chinese Medicine while preserving their own precious energy and their free and healthy being. Even for those who do not wish to become therapists, the knowledge offered by the Centre is mostly efficient and indispensable to tackle the unbalances stemming from seasonal changes, both for themselves and for their beloved. All this, knowing that the deepest ancestral and universal knowledge lies in the Spirit, as stated in the Chinese expression "Yang Sheng", the nurturing of Life, that depends on "Yang Xin", the nurturing of the Heart. This is why the Centre offers, on a regular basis, 5-day intensive workshops, such as the "Meditation Festival", where we practice a set of movement meditations, called "Liao Chan Qi Gong". Like dewdrops on a lotus' petals, like the sweet moon over a quiet lake, these moments of movement meditation soothe us through the inevitable upheavals in life, the fierce competition of our society, the threatening stress of the current world crisis... In this quiet place we can nurture our life, our Heart, and let us be permeated by a regenerating Light. When we are in distress, when we feel frustrated or drained, let us preserve a pure land inside of us, let us enter this blissful landscape of mountains and water, and may we let our soul spread its wings in the melodious movements rising from our innermost depths. We shall regain our smile and our joy of living.
Liao Yi LIN
Founder of Liao Ch'an Qi Gong - Liao Ch'an Yang Sheng Fang.
Partager cette page